Visit
Tuesday–Saturday 12–6pm
351 Canal St
New York, NY 10013
Canal Projects main gallery is accessible via a street level wheelchair lift. For access to the basement gallery and library please contact us@canalprojects.org.
Open and free Tuesday–Saturday, 12–6pm.

Group Visits

In-person educational and community groups of all ages are welcome to visit anytime during our gallery hours.

If your group would like to request an in-person tour or talk from a member of our staff during your visit, please contact us@canalprojects.org with your group's availability, size, age range, accessibility needs, and any other relevant information and we will do our best to accommodate your request.
COVID-19 Protocols
Face masks are encouraged and highly appreciated but not required. Proof of COVID-19 vaccination is also not required; however, we encourage everyone to complete their primary vaccination series and get boosted if eligible before joining us during exhibition visits and public programs.
Please do not visit Canal Projects if you are experiencing COVID-19 symptoms, have tested positive for COVID-19 within the past 14 days, or have been exposed to anyone who is suspected of having COVID-19.
These protocols are subject to change in accordance with any updates to city and state guidelines, rules and regulations, and other health and safety recommendations from our medical and public health advisors.

For additional questions about COVID-19 requirements please contact us@canalprojects.org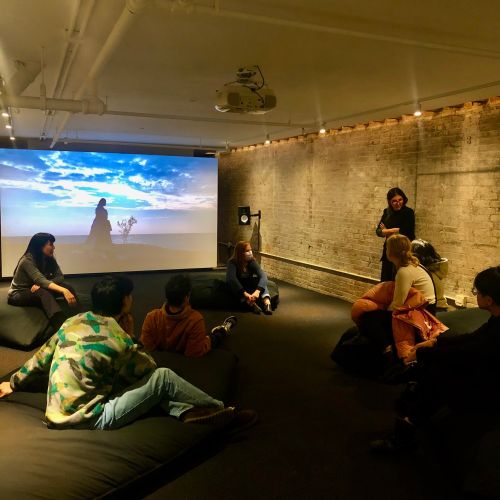 NYU Honors Thesis Art History students in conversation with Summer Guthery, Artistic Director and Sara Garzon, Assistant Curator.