ЦIумихъ (Tsumikh – Avar for "At the Eagle's")
Taus Makhacheva
September 22 – December 16, 2023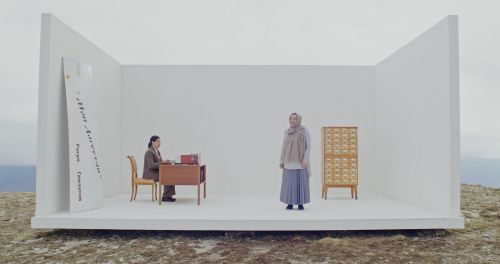 Canal Projects is pleased to present the U.S. premiere of Taus Makhacheva's newest film Цlумихъ (Tsumikh – Avar for "At the Eagle's"). In the film, Makhacheva interrogates the fraught relationship between personal and public memory by revisiting how her late grandfather, Rasul Gamzatov (b.1923–2003)––a celebrated Soviet poet––is remembered.
Taking place in a set that is repeatedly constructed and deconstructed, Makhacheva's childhood recollections of her grandfather meet the manifestation of Gamzatov's public identity. Over the course of the film, it is subtly revealed how these remembrances are at odds with one another. The film stages the sculptural busts, archives, documents and newspapers used to memorialize Gamzatov's life and legacy, contrasting these with the mementos and personal stories of his family.
Makhacheva is herself featured in the film as she rehearses for the impossible task of being cast as her grandfather. Her character is presented through a series of encounters and scenarios where a polyphony of voices lay claim to Gamzatov's memory ranging from art handlers to a van driver, a make-up artist to a choreographer, a museum director to state officers, all of whom have something to retell about the poet. Language and the politics of translation play an important role in the interactions between characters in Цlумихъ (Tsumikh). Among other questions, the film asks "who can claim memory?".
The film is titled Цlумихъ after the plateau in Dagestan where it was shot, which is situated in the North Caucasus. Languages of the film are Avar and Russian. The film will be screened from September 22nd to December 16th, 2023.
Makhacheva's new film is a three part project. Canal Projects is excited to have contributed to the development of this project by commissioning the second chapter of the project, 42.6729165, 47.7314644, a photograph of a concrete sculpture resting on a hill in Dagestan facing the Caspian Sea. Titled after the coordinates of its photographed location, the object was placed at this site by the artist in September 2023 after the completion of her film ЦIумихъ. The making of the concrete sculpture is the subject of Makhacheva's second film, which is currently in post-production. Weighing 54 kilograms, the block holds within it a bronze-cast bust of the artist's great grandfather Gamzat Tsadasa. Encasing the bronze bust is another molded plaster bust of the artist's grandfather, Rasul Gamzatov. The two busts have been encased inside a concrete block whose dimensions match those of the head and shoulders of Patimat Gamzatova, the daughter of Rasul Gamzatov, and the mother of Taus Makhacheva. The layering of histories acts as an enshrinement and a concealment, a protection and an erasure, a remembrance and a refusal.
Цlумихъ made its world premiere at the Gwangju Bienniale in 2023, and is supported by Sharjah Art Foundation Production Grant
With additional support from Sharjah and the Patrons Group at the Tselinny Center of Contemporary Culture, Almaty, Kazakhstan.
Production Support of 42.6729165, 47.7314644 was provided by Sharjah Art Foundation Production Grant, Canal Projects
Courtesy of the artist

Taus Makhacheva (b. 1983, Moscow) creates works that explore the restless connections between historical narratives and fictions of cultural authenticity. Often humorous, her art considers the resilience of images, objects and bodies emerging out of stories and personal experiences. Her methodology involves reworking of materials, landscapes and monuments, pushing against walls, opening up ceilings and proliferating institutional spaces with a cacophony of voices. Makhacheva holds a BA in Fine Art from Goldsmiths (2007) and has an MFA from the Royal College of Art (2013).
Selected exhibitions include the Gwangju Biennale (2023), Biennial of Difficult Heritage (2021), the Yokohama Triennale (2020), Lahore Biennale (2020), Kaunas Biennial (2019), Lyon Biennale (2019), Riga International Biennial of Contemporary Art (2018), Liverpool Biennial (2018), Manifesta (2018), Yinchuan Biennale (2018), Venice Biennale (2017), Garage Triennial of Russian Contemporary Art (2017), Shanghai Biennale (2016), Kyiv Biennial (2015), Sharjah Biennial (2013) and the Moscow Biennale (2011). Selected сollections include the Centre Pompidou (Paris); The P. S. Gamzatova Dagestan Museum of Fine Arts (Makhachkala); Kadist Art Foundation (Paris, San Francisco); Moscow Museum of Modern Art (Moscow); Museum of Modern Art (Antwerp); Sharjah Art Foundation (Sharjah); Tate Modern (London); Van Abbemuseum (Eindhoven).
Film Credits

Director: Taus Makhacheva
Co-director: Alexandra Pustynnova
Written by: Taus Makhacheva, Alexandra Pustynnova, Marina Chashnik
Director of photography: Veronika Solovyova
Producers: Marina Chashnik, Taus Makhacheva
Editing: Tanya Vetrova, Alexandra Pustynnova, Vadim Elichev
Sound: Alexandr Khokhlov, Roman Kurochkin
Screenplay: Taus Makhacheva, Alexandra Pustynnova, Zakir Magomedov, Natalya Leontieva, Xenia Skorystchenko
Production Design: Fyodor Krotkov, Maria Plavinskaya, Sasha Kovaleva
Choreographer: Anna Abalikhina
Costume Design: Panika Derevya
Design supervision: Anna Braude
Make up: Yekaterina Konovalova
Line producer: Kristina Cherniavskaia
Production manager: Nurmagomed Nurmagomedov
Main cast: Anna Abalikhina, Aishat Patakhova, Nurmagomed Nurmagomedov, Taus Makhacheva, Abdulkhalik Abdulkhalikov, Shamil Ahmed, Shamil Khasyanzyanov, Abdullah Magomedov, Mukhtar Maksudov, Ibragim Murtazaliev, Magomed Murtazaliev
Cast: Aida Abasova, Alibeg Abdulayev, Anna Braude, Marina Chashnik, Kristina Cherniavskaia, Rasul Goroev, Sasha Kovaleva, Fyodor Krotkov, Gaidar Magomedov, Saadula Saadulaev, Veronika Smirnova, Veronika Solovyova, Magomed Suleimanov, Anna Vetrova
Assistant stage manager: Alisa Bunkova
Studio Taus Makhacheva: Amal Avezdzhanova, Alisa Bunkova, Kristina Cherniavskaia, Marina Istomina, Sasha Kovaleva, Veronika Smirnova, Anna Vetrova
Development producer: Nadezhda Gorbushina
Second unit
Director of photography: Maria Falileyeva
Gaffer: Zarina Kodzaeva
Focus puller: Zarina Kodzaeva
Second unit focus puller: Andrey Valentsov
Camera mechanic: Sergey Kaspriv
Key Grip: Ivan Anisimov
Lighting: Shamil Khasyanzyanov
Drone operators: Ulugbek Bakhriev, Maxim Samborsky
Backup: Veronika Smirnova
Production assistants: Hava Gebekova, Lev Larionov, Veronika Smirnova, Anna Vetrova
Archive: Marina Istomina, Amal Avezdzhanova
Set construction: Andrey Resnyansky, Rasul Abakarov, Asadula Asadulaev, Nezhvedil Shakhpazov
Prop makers: Artyom Kerpek, Sergey Sergeyev, Sergey Gurduza, Nina Firsova, Anastasia Asver, Yekaterina Smirnova, Sergey Vinokhodov, Vlad Tsimbalist, Efendi Omarov, Shamil Kanaigadzhiev, Magomed Abashilov, Omar Abdurazakov, Ilya Moskvitin, Diana Gridina, Semyon Rozenberg, Shamil Ahmed, Mukhtar Gadzhinnaev, Oleg Pomelov, Maria Nechaeva, Savvaty Ilyukhin, Maria Ilyukhina, Sergey Verchyonov
Prop studios: Islam Abdurashidov Studio, MAKET-MDM, ProffGraver, Stage Portal
Costume production: Costume Studio Paloma | Olga Kalinina, Nadezhda Danilenko, Larisa Nikulshina
Second unit make up: Aida Abasova
Technicians: Magomed Abdurakhmanov, Magomed Gitinovasov, Muslim Magomedov
Guardian of the Mountain: Magomed Gadzhidadaev
Catering: Bahu Magomedova, Umuzhat Magomedova, Salikhat Patakhova
Backstage: Ilyas Hajji
Transport: Osman Gairbegov, Rasul Goroev, Mukhudada Kadiev, Gaidar Magomedov, Magomedali Tagirov, Tagir Tagirov
Consultants: Yelena Belova, Mark Coulier, Pyotr Gorshenin and Tatyana Gorshenina, Iuliia Grotova, Kristyan Mallett, Mark Ward
Storyboard: Sasha Kovaleva, Yelena Timofeyeva
Post-production
Post-production producer: Marina Chashnik, Maria Yakubova
Color correction: Valentina Kryshova
CGI: Yury Golubev, Artur Meretukov, Aisen Sergeyev
Mastering: Valentina Kryshova, Ekaterina Pyanykh
Color grading studio: Cosmosfilm
5.1 sound mixing: Studio Phonograph
Voice-over recordings: Vilayat Bakharov, Denis Dronov, Makhach Magomedov, Kirill Vasilenko
Voice actors: Akhmed Amirkhanov, Yury Brezhnev, Magomedrasul Dibirmagomedov, Artur Dzhakhbarov, Patimat Gamzatova, Abakar Omargadzhiev
Voice casting: Vladislav Kupriashin
Titles design: Dmitry Devishvili, Liubov Sokolova
Text editors: Xenia Samarina, Yelizaveta Vlasova
Transcribing: Alexandra Smolyanskaya
Subtitles: Avar I Aishat Patakhova, English I Ben McGarr
Archive footage
Producers: Malika Alieva, Taus Makhacheva
DOP: Alexander Sinyagin, Pavel Filkov
Cast: Gadzhi Gadzhiev
Production support: Gimbat Gimbatov
Sound: Daria Gradoboyeva
Prosthetic makeup: Anton Ostrovsky, Alexey Chernikh
Body prosthetics: Lyudmila Kameyeva
Research: Patimat Abdullaeva
Production assistant: Akhmed Yusupov
Backstage: Imam Guseinov, Magomed Kerimov
Music
Cranes Text: Rasul Gamzatov, Music: Yan Frenkel, Vocals: Marc Bernes, Translation: Naum Grebnev
On the Mountain Roads Text: Rasul Gamzatov, Music: Sergei Agababov, Vocals: Rashid Beibutov,Translation: Yakov Kozlovsky
Artists whose sculptural works are featured in the film: Shamil Kanaigadzhiev, Magomed-Ali Aliyev, Geibat Geibatov, Lev Kerbel, Aldona Nenasheva, Islam Shovkrinsky, Peter Kuskov, Abdulazhid Gazaliev, Zakarya Zakaryaev
With special thanks to: Magomed Abdulbasirov, Shamil Abdurakhmanov, Lawrence Abu Hamdan, Sabih Ahmed, Shamil Ahmed, Hoor Al Qasimi, Nawar Al Qasimi, Malika Alieva, Saidakhmed Alikhanov, Magomed-Ali Aliyev, Umakhan Amirkhanov, Khatazhi Amirkhanova, Asylum Models&Effects, Alexander Barmenkov, Breda Beban, Dani Burrows, Zarema Butaeva, Harry C.H.Choi, Coulier Creatures FX, Zarema Dadaeva, Denis Davidov, Bart De Baere, Christina Demetriou, Raziyat Dibirova, Alexandra Donkan, Yakhya Dzhanmirzaev, Charles Esche, Fresh Glass, FX DESIGN GROUP INT, Shamil Gadzhidadaev, Gadzhi Gadzhiev, Magomed Gaidarbekov, Rasul Gamzatov, Patimat Gamzatova, P. S. Gamzatova Dagestan Museum of Fine Arts, Salikhat Gamzatova, Shamil Gasanov, Hasan Gairbegov, Osman Gairbegov, Geibat Geibatov, Gimbat Gimbatov, Yulia Goloveshkina, Pavel Gorbachov, Anna Grebennikova, Magomed Guseinov, Yelizaveta Guseva, Carmen Hassan, Zarema Ibragimova, Assadula Islamov, Shamil Kanaigadzhiev, Olga Karpova, Yelena Kasatkina, Magomed Kazbekov, Daria Kirsanova, KM Effects, Katerina Koskina, Sook- Kyung Lee, Magomed Magomedov, Aishat Magomedova, Amina Magomedova, Luara Magomedova, Osman Makhachev, Mukhamad Makkacharipov, Alexey Maslyaev, Magomed Mazhidkhanov, Amina Menia, Aminat Murtazaliyeva, Museum of Makhachkala City History, Vladimir Nadein, Jama Nurkalieva, Zukhra Osmanova, Others Store, Aishat Patakhova, Liza Popova, Alexander Povzner, Farida Primova, Zhan Prosyanov, Grisha Rakhmilovich, Sergey Rozhnov, Batal Shakhshaev, Islam Shovkrinsky, Alexandra Sidorova, Aishat Sultanova, Magomedarip Surkhatilov, Vladimir Tereshkin, Karine Temirkhanova, Marat Timokhin, Anton Valkovsky, Eline Van Der Vlist, Vincent van Velsen, Andrey Vasilenko, Lantian Xie, Ala Younis, Zairbek Yusupov, Zaira Yusupova, Nurmagomed Zadiev, Yevgenia Zakharova, Nina Zavrieva
Equipment rental: Kinozavod, Kinotekhnika, Rentaphoto
Photograph
Photography and color grading: Anastasia Ivanova
Production: Veronika Smirnova
Production Support: Gadzhi Musagadzhiev, Magomed Musagadzhiev
Taus Makhacheva Studio: Amal Avezdzhanova, Alexandra Kuznetsova, Veronika Smirnova
Sculpture production
Sculptor: Shamil Ahmed
Bronze Casting: Dmitriy Moiseev, Petr Moiseev
Patination: Borovikov Vladimir
Production: Marina Chashnik, Sasha Kovaleva
Production Support: Sharjah Art Foundation Production Grant, Canal Projects
Courtesy of the artist