Healing from Meteorites:
Performative Reading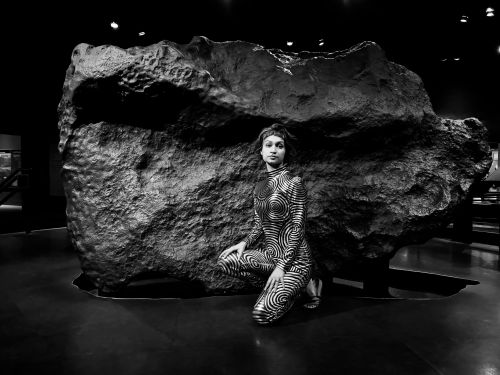 In a performative reading, "Healing from Meteorites" will seek to give meteorites vibrancy, agency, life and to resurrect them from the archives of geology and question Western assumptions of the singular origin of space. The text was written by Himali Singh Soin together with Alexis Rider for Momenta Biennale (2021), which Soin curated alongside Steffi Hessler and Camille Usher. The text and the reading are based on the podcast: "Emergent Interstellar Dust: Himali Singh Soin & Prof Chandra Wickramasinghe."
In preparation for the performative reading listen to the podcast here
In this episode, artist and poet, Himali Singh Soin discusses cosmic ancestry and the biosphere of the galaxy with mathematician, astronomer, and astrobiologist, Dr. Chandra Wickramasinghe. Sri Lankan-born, Wickramasinghe, grew up seeing a pristine view of the celestial expanse in the night skies above his home in Colombo. Now a leading expert on interstellar material and the origins of life, much of his work tests the edges of controversial hypotheses on the cosmos, in particular the theory of panspermia. Drawing from Hindu and Buddhist mythology and philosophy, Soin and Wickramasinghe reconsider the west's Judeo-Christian perspectives of the universe, questioning fundamental assumptions of the Big Bang as a moment of creation and the problem of how consciousness comes into being. Intertwined throughout their discussion, Soin reads from her vivid and provoking text, written in collaboration with Alexis Rider, Healing from Meteorites. Initiated and convened by curator Sophie J Williamson, Undead Matter is an ongoing collective project, materialising slowly and organically in exhibitions, events, podcasts, publishing and the intangible. The podcast titled "Emergent Interstellar Dust" was organized by Sophie Williamson.

Himali Singh Soin's (b. New Delhi, lives between London and New Delhi) multi-disciplinary work uses metaphors from the natural environment to construct speculative cosmologies that reveal non-linear entanglements between human and non-human life. Her poetic methodology explores the myriad technologies of knowing, from scientific to intuitional, indigenous and alchemical processes.
Himali has had solos at The Art Institute of Chicago (2022-2023) and Museo Thyssen in Madrid (2022). Her art has been shown at Khoj (Delhi), Mimosa House, Serpentine Gallery (London), Gropius Bau, (Berlin), Desert X (California), the Dhaka Art Summit and the Shanghai Biennale among others. She has been the writer in residence at the Whitechapel Gallery and is a spring 2023 Studio & Research Resident at Amant.