Grounding
With Anaïs Duplan, Naoco Wowsugi, and others
Hosted by Prem Krishnamurthy
November 17, 7–9pm
Friday, November 17, 2023
Doors open at 6:30, event is from 7–9pm
Free RSVP
How can art be transformative for individuals, groups, and society? What are strategies that can contribute to collective learning? And what, if anything, does karaoke have to do with this?!
Department of Transformation's Prem Krishnamurthy and a cohort of collaborators explore these and other questions in an experimental talk show to launch the Groundwork residency at Canal Projects. The kick-off event includes a hybrid conversation with poet, artist, and meditation teacher Anaïs Duplan, a collective sound healing session by community-engaged artist and gong practitioner Naoco Wowsugi, as well as other contributions. Operating across different modes—including journaling, mindfulness, small group interactions (+ karaoke!)—the program intends to open up a dialogue around polyvocal ways of working in and on the world.

Anaïs Duplan is a trans* poet, curator, and artist. He is the author of the book I NEED MUSIC; Blackspace: On the Poetics of an Afrofuture; Take This Stallion; and the chapbook, Mount Carmel and the Blood of Parnassus. He was a 2017–2019 joint Public Programs fellow at the MoMA and the Studio Museum in Harlem, and in 2021 received a Marian Goodman fellowship from Independent Curators International for his research on Black experimental documentary. In 2016, he founded the Center for Afrofuturist Studies, an artist residency program for artists of color, based at Iowa City's artist-run organization Public Space One. He is the recipient of the 2021 QUEER|ART|PRIZE for Recent Work, and a 2022 Whiting Award in Nonfiction. Duplan is a professor of postcolonial literature at Bennington College, and has taught poetry at The New School, Columbia University, Sarah Lawrence College, and others.
Naoco Wowsugi is a community-engaged artist who lives and works in Washington, DC. Wowsugi's cross-disciplinary projects range from portrait photography, participatory performance, and sound healing, to horticulture, exploring the nature of belonging and inclusive community building while they highlight and fortify everyday communal and interpersonal identities. Wowsugi's art practice blurs the lines between being an artist and an engaged citizen. (www.wowsugi.com and @wowsugi)
Prem Krishnamurthy is a designer, author, and educator. His multifaceted work explores the role of art as an agent of transformation at an individual, collective, and structural level. This manifests itself in books, exhibitions, images, performances, publications, systems, talks, texts, and workshops. He received the Cooper Hewitt National Design Award for Communications Design in 2015 and KW Institute for Contemporary Art's "A Year With…" residency fellowship in 2018. He has curated several large-scale exhibitions including FRONT International 2022: Oh, Gods of Dust and Rainbows. In 2022, Domain Books published his book-length epistolary essay, On Letters. Previously, Prem founded the design studio Project Projects and the exhibition space P! in New York.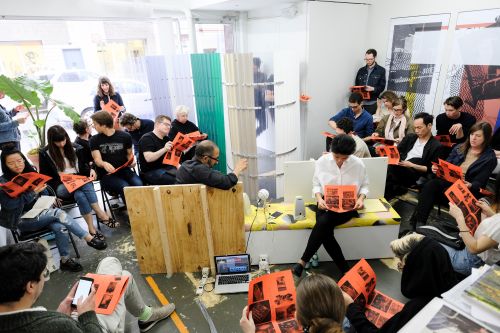 "With Distance: Conversation with Kristie La", as part of Céline Condorelli: Epilogue, 2017. P!, New York, US. Curator: Prem Krishnamurthy.