Çanal Street Researçh Assoçiation: Street Market
May 6, 1–6pm
Join us on Saturday, May 6 from 1–6pm for Çanal Street Researçh Assoçiation: Street Market! Presented by Lower-Level Library residents, Canal Street Research Association. 
Above the basement library where they currently operate, Canal Street Research Association hosts Çanal Street Researçh Assoçiation, a street market outside of Canal Projects on Saturday, May 6. The market blurs the line between official and unofficial, formal and informal, above and below ground, drawing on the long and enduring tradition of unsanctioned street markets, displaying goods for sale in heaps and crates that also function as an archive of global overstock, defunct technologies, and bootleg innovations. Vendors will include local artists and artisans Chang Yuchen, Uneek Street Art, BlackMass Publishing, and Jeef Jeel among others, offering goods from bags to coffee, books to radios, alluring junk and altered gems.

BlackMass Publishing is an independent press promoting and publishing Material by Black Artists Founded by Yusuf Hassan in 2019.
Chang Yuchen works in an interdisciplinary manner—writing as weaving, drawing as translation, teaching as hospitality, commerce as social experiment (see Use Value) and publishing as a dandelion spreading its seeds. By constantly entering and exiting each medium, she strolls against the category of things, the labor division among people.
Jeef Jeel was founded by Birane Seck, originally from Senegal and now based in Brooklyn, with a mission to provide ethically sourced organic Cafe Touba. Jeef Jeel means "you reap what you sow."
Uneek Street Art is a project of Ibrahima Kandji, an artist who takes Canal Street detritus forming it into printed adornment on garments creating an archive of wearable traces of the street.
Çanal Street Researçh Assoçiation is the experimental retail arm of Canal Street Research Association which takes inspiration from the legacy of artist-run shops in the area from Judith Henry and Jaime Davidovich's Wooster Enterprises to Godzilla: Asian American Arts Network's Curio Shop and honoring the unofficial economies of the street.
Spout is a collection of tea canisters fashioned from downspouts containing teas sourced from small farms in China and Kenya, designed and distributed by Howard Spann.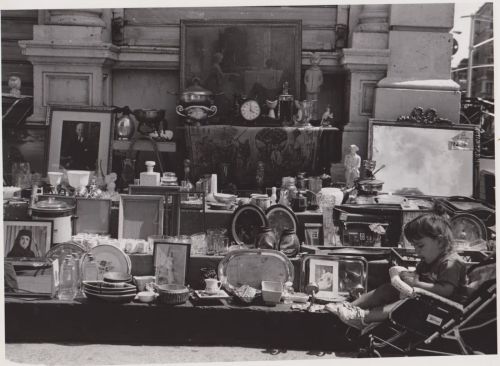 Street Vendor's wares on Wooster and Canal with 276 Canal Street (southeast corner of Broadway) visible at top right corner. Courtesy Village Preservation.