Canal Street Research Association
Babel (re-staging)
February 22, 1pm
From December 2022–February 2023, Canal Project's front window played host to Canal Street Research Association's homage to Cildo Meireles' monumental work "Babel" (2001). Meireles' work began with his collecting of used radios on Canal Street, formerly lined with shops migrated from the nearby Radio Row. In the actual work, a tower of radios play various stations at a low cacophonous hum and are bathed in a blue eerie light. At Canal Projects, each evening, blue light streams out of the illuminated sidewalk, the glass that sits overhead of the basement library residency where Shanzhai Lyric's Canal Street Research Association is currently in residence, and in from the front window, where used radios have slowly been accumulating.
As Canal Street Research Association writes, "the experimental multi-lingual writings so common on shanzhai (counterfeit) garments, and often found on Canal Street, echo the cacophony of Babel. And the bustling multi-lingual trade networks along the block are often perceived as a threat by corporate empires and property owners who galvanize the police to harass and disperse the vendors, well aware that collaboration across language and culture is the most powerful thing of all: together, we can build a tower to heaven."
As a culmination of this window display, Canal Street Research Association honored both Meireles and Hi-Tech Electronic Service Center (47 Canal St), the last used radio shop on Canal Street, with "Babel (re-staging)," a broadcast featuring songs, poems, and other pieces either inspired by, recorded on, or recorded with materials found on Canal Street.
Listen to the full recording HERE
This was the first event of Canal Street Research Association's spring programming while in residence in our Lower-Level Library, kicking off a season which investigates various intersections of waste streams, junk shops, defunct tech, catacombs, and the underground on and beyond Canal Street. Upcoming programming will include films, discussions and more that expand on Canal Projects' own spring season and its focus on environmental aesthetics and climate justice.
"Babel (re-staging)" was originally broadcast on Montez Press Radio on February 22, 2023, at 1 pm.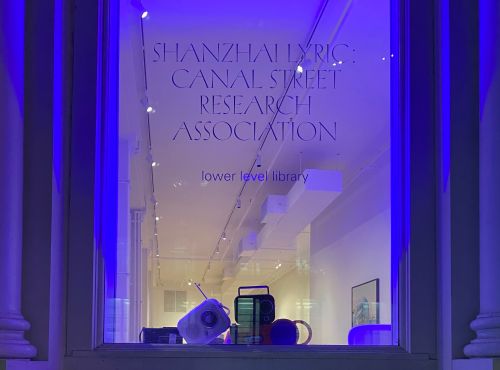 Canal Street Research Association, Babel (re-staging), 2023 at Canal Projects.