Artist talk: Nuotama Bodomo
May 18, 7pm
Join us on Thursday, May 18 for an evening with filmmaker Nuotama Bodomo, moderated by Daniella Brito!
Afronauts departs from the figure of the grade-school science teacher Edward Festus Mukuka Nkoloso (1919–1989) who was a member of the Zambian resistance movement and the founder of the Zambia National Academy of Science, Space Research, and Philosophy. Mukuka Nkoloso's space training program was built around the figure of Matha Mwambwa, a seventeen-year-old woman who was to be launched into space alongside two cats. Through a speculative take on these events, Bodomo's film rejects paradigms of expansionism and conversion that have been reiterated all throughout the histories of western colonization.
For Bodomo, the question of whether Matha would make it to the moon is almost irrelevant. While "based on true events," her 2014 short Afronauts, featured as part of the exhibition, Back to Earth: Contested Histories of Outer Space Travel, renders the story of the Zambian Space Program as a dreamlike work of speculative fiction, contemplating the larger ramifications of launching the Black body into space against the backdrop of the independence movements taking place across the African continent in the 1960s.

Nuotama Bodomo is a Ghanaian filmmaker. Her award-winning short films have played at festivals including sundance, the Berlinale, Telluride, Rotterdam, sxsw, and New Directors/New Films. Afronauts was exhibited at the Whitney museum as part of the group show dreamlands: immersive cinema and art, 1905-2016 and at the 2018 Venice Biennale architecture (US pavilion) as part of dimensions of citizenship.
Daniella Brito is a Dominican-American writer and curator. Their writing has appeared in Hyperallergic, Contemporary And, Document Journal, Them, and elsewhere. Brito has held curatorial and programmatic support roles at Art Labour Archives (Berlin), Decad (Berlin), The Knockdown Center (New York), El Museo Del Barrio (New York), and more. They have curated programs and presented work at spaces including e-flux Screening Room, The Kitchen, Fridman Gallery, Queer|Art, and NEW INC. They are currently a research fellow at The Kitchen, where their research interests span across visual culture, fugitivity studies, and queer performance practices.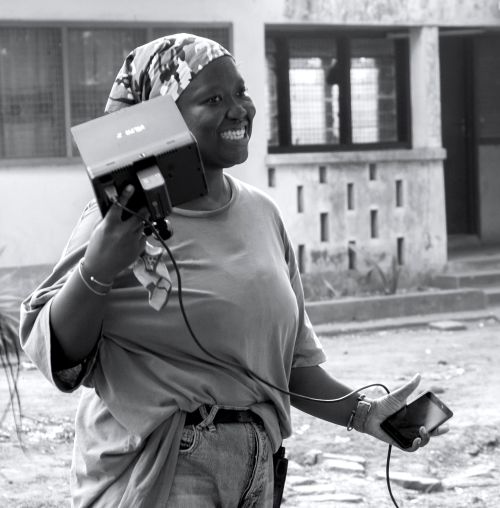 Nuotama Bodomo. Image courtesy of the artist.
Daniella Brito