Artist Talk: Marcus Jahmal
June 28, 7pm
Join us on Wednesday, June 28 at 7pm for an evening with Marcus Jahmal! The night will begin with a conversation between the artist and our artistic director Summer Guthery on Jahmal's practice and how it relates to notions of dwelling and will be followed by open dialogue with the audience. The conversation will also be live streamed via our Instagram.
A self-taught artist, Marcus Jahmal's domestic scenes are rich with metaphors that are often drawn from his life growing up in Brooklyn's Prospect Heights neighborhood surrounded by a West Indies community. Jahmal's scenes skew a sense of linear perspective, depicting interior scenes of individuals at home. Spaces lose their depth, slowly caving inwards as the floors rise and walls lean in, creating an air thick with psychological tension.

Marcus Jahmal (b. 1990, New York) was raised in Brooklyn's Prospect Heights neighborhood, growing up in a family with roots in the American south. Marcus Jahmal has exhibited widely in the United States, Europe, and Asia. His inaugural monograph, Solid Ghosts, was published in 2018, and he has been the subject of a recent institutional solo exhibition at the Passerelle Centre d'art contemporain, in Brest, France.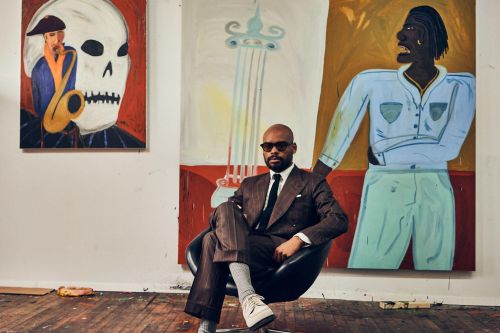 Marcus Jahmal in his studio in Brooklyn, 2021. © Marcus Jahmal. Courtesy of the artist and Almine Rech. Photo: Zeph Colombatto.