Artist Talk: Ho Jae Kim
July 26, 7pm
Join us on Wednesday, July 26 at 7pm for an evening with Ho Jae Kim! The night will begin with a conversation between the artist and our artistic director Summer Guthery on Kim's practice and how it relates to notions of dwelling and will be followed by open dialogue with the audience. The conversation will also be live streamed via our Instagram.
Ho Jae Kim's hyperrealistic canvases often depict scenes of stillness and waiting that the artist has expressed to be various forms of "purgatories" that juxtapose the mundane with something more transcendent. Through the use of framing arches and luminous almost theatrical lighting, "each scene becomes a divine scene of nothingness…It's to show that even these minor jobs or minor scenes or these, these moments that seem unimportant are inherently beautiful."

Ho Jae Kim (b. 1993, South Korea) is a New York-based artist who holds a BFA from the Rhode Island School of Design. His works have been acquired by the JP Morgan Chase collection, Morgan Stanley, as well as the X museum in Beijing, and has been featured in publications such as Whitehot Magazine, Artsy, Artnet News, Architectural Digest, Barton's, and Forbes among others. He is also the founder of Civil Art, a nonprofit that works to amplify voices that advocate cultural awareness of Asian Pacific Islanders through social engagement programs that utilize art and literature. His recent exhibition, "Carousel" is his second solo show with Harper's, following his debut solo in 2021. Kim has participated in group presentations at Nicodim Gallery, Make Room LA, Christie's New York, Sotheby's New York, and Nexx Asia Taipei. Later this year he will present work in group shows at Canal Projects, a nonprofit institute based in New York, and Hive Contemporary Beijing. He will also be presenting his first Los Angeles solo exhibition at Nicodim Gallery this fall.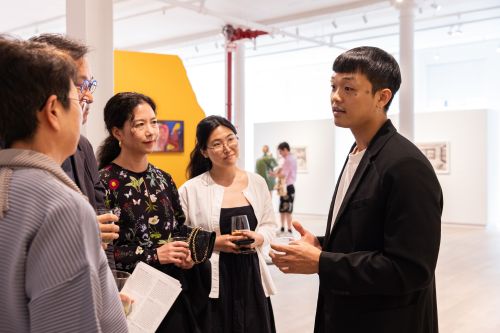 Ho Jae Kim at the opening of Dwelling, June 16, 2023. Image courtesy of Walter Wlodarczyk.