Korakrit Arunanondchai & Alex Gvojic
PRAY
September 29–December 17, 2022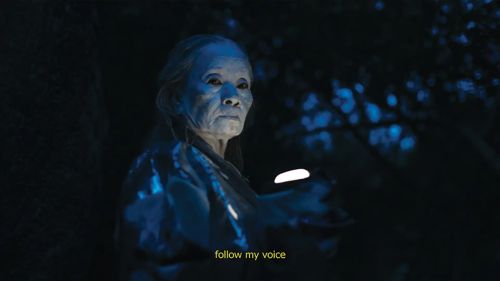 Korakrit Arunanondchai & Alex Gvojic, Songs for dying (still), 2021. 30:18min HD Video. Image courtesy of the artist.
PRAY includes Korakrit Arunanondchai's two most recent videos: Songs for dying and Songs for living (both 2021).
Created in collaboration with artist and director Alex Gvojic, Songs for living was co-written with the artist Diane Severin Nguyen, features narrations by singer Zsela, and was influenced by writings from Simone Weil, Édouard Glissant, and Czesław Miłosz. It also includes musical composition and direction by the producer Aaron David Ross.
PRAY is generously supported by C L E A R I N G New York / Brussels.

Songs for living is presented in an immersive environment where a wishing pond reflects a submerged image onto a screen. A cast of Arunanondchai's grandfather's hands poetically taps the body of water manipulating the image. Songs for living was filmed and created mostly in the summer of 2021 around New York City's lower Manhattan.
Each of the videos is narrated by the voice of the "ghost" that speaks for dead spirits, political regimes, family members, and animals, all entwined together and transforming into one another. Artist-made sculptures of spirit houses are installed as thresholds between spirit and flesh, creation and decreation.
Organized around sequences of songs, Songs for dying focuses on the rituals of death and the process of decomposition, which more than enunciating a final end create the possibility of continuous transformation. In Songs for dying, departing from the loss of his grandfather, the artist unfolds stories that carry the idea of self into the space of the unknowable. Ghosts, shamans, and a dying sea turtle are not only metaphors but also the mediums through which becoming and decomposition must pass through.
In the video, archival footage of the 1948 South Korean Jeju Massacre is contrasted with the most recent anti-government protests in Thailand. All these events tie together with the story of American democracy and how after World War II, neoliberal regimes have been forced upon different countries of the world.

A visual artist, filmmaker, and storyteller, Korakrit Arunanondchai employs his versatile practice to tell stories embedded in the formation of collectivity and higher power. His highly experimental works provide the public with immersive and participatory experiences of political and ritualistic nature. As a multidisciplinary artist, Arunanondchai creates videos, performances, and sound pieces in collaboration with artists, filmmakers, musicians, and writers.
Arunanondchai earned his BFA from the Rhode Island School of Design in 2009 and his MFA from Columbia University in 2012. His works have been featured in major solo and group exhibitions including Moderna Museet in Sweden (2022); Art Sonje Center in Seoul (2022); Bangkok CityCity Gallery (2022); Singapore Art Museum (2022); and Kunsthall Trondheim in Norway (2021). Arunanondchai's work has also been included in major film festivals such as Transfigured Boundaries at Cineteca Nacional, Mexico City (2022); Stuttgarter Filmwinter Festival for Expanded Media (2022); and the 2020 International Film Festival Rotterdam (IFFR), to name but a few. His works are supported by various private foundations and museums around the world.
Alex Gvojic is a New York based artist and cinematographer. His work focuses on creating "hyper-reality" environments that blend video, light, and cinematic tropes. By the transmutation of physical spaces, Gvojic explores the relationships between seeing and believing creating worlds that feel both familiar and foreign. His work has been presented at the Venice Biennale, Berlin Biennale, Palais de Tokyo, Biennale de l'Image en Mouvement, MoMA PS1, UCCA Center for Contemporary in China, the Museum of Modern Art in Warsaw, among others. He has collaborated with a variety of artists including Korakrit Arunanondchai, Ryan Trecartin, DIS, Xavier Cha, Fatima Al Qadiri, and others.

PRAY
Installation and production supported by: Andrew Lee, Glen Fogel and Duckunit, Matthew Li, Aaron Wrinkle, Atlantic Fine Art Services.
---
"Songs for living"
PRODUCTION
KOH TAO
Camera Operator: Andres Gutierrez Fiskeseth, Cyrus James Khan
Talent: Child - Warin; Ghosts- Senay Zahir, Asia, Taw, Joy, Sha Prad
Production Manager: Turan Zahir, Pookie Supaya, Sirada Chaumthong
Location Supported by: New Heaven Diving School
NEW YORK
Bonfire
Movement Direction: Monica Mirabile
Performers: Jack Meriwether, Joy Norton, Kate Williams, Maxi Canion, Amanda Wallace, Ellery Burton, Sadie Carnot, Margot Roo Ells, Erika McCarthy, James Adelman, Bryant Kennedy
Tai-Chi Dancers:
Albert Chan, Yee Lai Gong, Irene H Lee, Jie Ming Dong, Sun Choi Tsang, Yun Ho Poon, Kam Lei, Zenia de la Cruz, Richard Chin, Wai Wah Ho,Margaret Yuen, Sue Seto
Unicycle Delivery Riders:
Melanie Flores, Sofya Yuditskaya, Timothy Villaluz, Veronica H Generoso
CREW/POST
Producer & Camera B: Rory Mulhere
Producer & Art Department: Cherisse Gray
Lighting: Michael Potvin
Location Manager: Todd Faulkner
White Production: Zanze Addington
Production Assistant & Art Department: Alden Louke, Alison Peery, Emma McMillian, Meghan Smith
Production Assistant: Violet Flux, Elias Riviera
Location Manager: Arba Hall
Dylan Golden
COLOR & POST PRODUCTION
SOUND
Storyteller: Zsela
Composition and Mixing: Aaron David Ross
MUSIC
Score: Aaron David Ross
"Coral like bone": originally composed by Mikey Hart and Zsela
Drums: Brian Chippendale
Guitar: Mythless
Writing: Diane Severin Nguyen & Korakrit Arunanondchai
Co-commissioned by Migros Museum für Gegenwartskunst and Kunstverein in Hamburg with support from FACT, Liverpool. Additional support by C L E A R I N G New York/ Brussels.
---
"Songs for dying"
PRODUCTION
BANGKOK
Camera Operator: Akapol Sudasna, Abhichon Rattanabhayon
HUAHIN
Director of Photography: Pasit Tandaechanurat
Camera Operator: Parin Intarasorn, Akapol Sudasna
Camera Assistant: Kantidarak Chaengtin, Teethat Yimsukpaitoon
Lighting & Grip: Piyapong Chatuthipsakul
Data Wrangler: Ekkaphob Sumsiripong
Performers: Donruedi Chana, Note Panayanggool
Line Producer: Cattleya Paosrijaroen,Tanade Amornpiyalerk
Production Assistant: Kanich Khajohnsri, Kolap Kansorn
Art Director: Narong Srisophab
Prop Master: Wissanu Nobnorb
Art runner: Chavapol Petkanpoom, Wisit Sratongoil
Van Driver: Thanakit Sutham, Nipol Khemthong, Yutthana Suksaman
KOH TAO
Director of Photography: Andres Gutierrez Fiskeseth
JEJU
Line producer and Camera A: Che Onejoon
Camera B: Seo Jongwook
Camera Assistant: Yoon Kyujong
Research: Seong Nae Kim
COLOR & POST PRODUCTION
White Light
SOUND
Composition and Mixing: Akritchalerm Kalayanamitr
Music: Koichi Shimizu, Zsela, Aaron David Ross, Bonventure, Wuttipong Leetrakul, Note Panayanggool, Kawita Vatanajyankur, Jink Sridumrongruk, Praewa Chirapravati Na Ayudhya
Commissioned by Gwangju Biennale, Kunsthalle Trondheim, and The Han Nefkens Foundation
Korakrit Arunanondchai & Alex Gvojic, Songs for living (excerpt), 2021. 20:53min HD Video. Courtesy of the artist.
Korakrit Arunanondchai & Alex Gvojic, Songs for living (still), 2021. 20:53min HD Video. Image courtesy of the artist.

Korakrit Arunanondchai, Songs for dying (still), 2021. 30:18min HD Video. Image courtesy of the artist.

Korakrit Arunanondchai & Alex Gvojic, Songs for living (still), 2021. 20:53min HD Video. Image courtesy of the artist.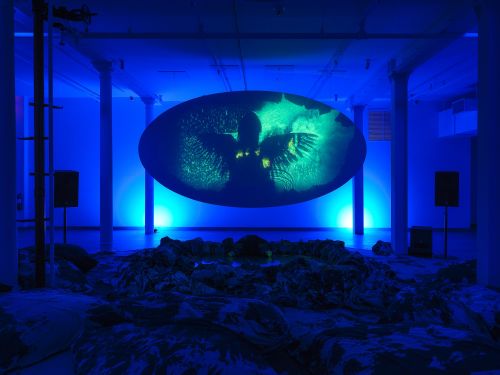 Korakrit Arunanondchai & Alex Gvojic, PRAY, 2022. Installation view; Songs for living, 2021, 20:53 min single channel video (HD, color, sound), bleached denim, metallic foil, robotic hand; Spirit Houses, 2022, wood, LED lighting, glass. Image courtesy Canal Projects, NY. Photo: Daniel Kukla.